Reading time:
5 min
Novelio Nature Grace Nutmeg
United Kingdom
, Warrington
Novelio Nature® by Saint-Gobain Adfors helps make 'Good Homes for Good People'
Martyn Toft & Martyn Jones have more in common than just the 'y' in their respective forenames.
"Actually I've known 'Tofty' since he was knee-high to a grasshopper" says Martyn Jones - Sales Manager for Saint-Gobain Adfors CZ - a manufacturer of fibreglass fabrics for reinforcement based in the Czech Republic.
"Over the years we have battled against one-another on the 5-a-side pitch, had a 'smashing' time on the badminton court & stood together on the rugby league terraces to cheer on the 'Mighty Wire' (Warrington Wolves). Tofty DJ'd for me at a memorable party I hosted on Millennium Eve for around 200 people and yes, we were even once members of the same brass band! 
It's been great therefore to now follow the fabulous progress he has been making since venturing into business with his own property management company - MWT Property Ltd."
Martyn Toft elaborated on his new career path…
"I've always been a big fan of TV renovation shows like 'Homes Under The Hammer' and had ambitions of refurbishing a property of my own. My first opportunity came in 2016 when I took on a 'back to brick' project in Bacup, Lancashire. It was a lot of hard graft and I was on a steep learning curve but ultimately it was a successful venture & one that eventually led to me starting my own business 4 years ago. I now own or manage a portfolio of properties dotted around the North-West including several HMO's (House of Multiple Occupancy) all of which I have refurbished, decorated and now maintain. My company's ethos is "Good Homes for Good People" because it's important to me to not only be a responsible, trustworthy landlord but also provide my tenants with comfortable accommodation that is marketed at a fair & competitive rental price. As we say to all our tenants, it's our house but it's your home."
It was in this connection that the two Martyn's recently agreed to combine forces once again….
"I felt strongly that Toftys' venture would be a great fit for the installation of our glass fibre wallcoverings" said Martyn Jones. "Our Novelio Nature is a ready-to-hang glass fibre wallcovering that is durable, hard-wearing yet stylish so ideally suited for providing both practicality & panache to precisely this kind of rental property."
After an initial meeting to understand the many features & benefits of Novelio Nature, Martyn Toft selected Novelio Nature 'Grace Nutmeg' for the project & with the intention for this wallcovering to be initially applied to two separate feature walls in a property recently acquired by MWT and undergoing refurbishment.
This 5-bedroomed HMO on Wilderspool Causeway, Warrington has recently undergone a comprehensive renovation & forms part of portfolio of properties either directly owned or managed by MWT Property Ltd.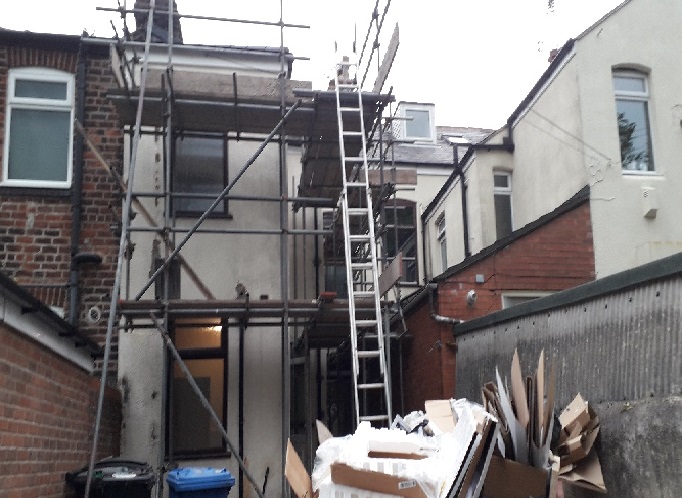 The rear of the property & roof has been undergoing extensive renovation in preparation for occupation by tenants.
A feature wall in one of the room on the ground floor of the property being applied with ADFORS Novelio® glass fibre wallcovering by a painter & decorator appointed through MWT Property Ltd.
Note: On this wall, the wallcovering was butt-jointed to create a more panelled effect (… it's also possible to overlap & double-cut for a completely seamless finish)
The "after" effect
When asked about working with glass fibre wallcoverings, Dave the decorator said: "It's similar to working with wallpaper really… it's just that glass fibre wallcoverings tend to be a little thicker & more robust; making them much easier to work with… especially in the more trickier areas like when cutting here around the door & fire alarm."
A "before" photo of the plain, plastered wall in room on the upper floor of the property.
"Glass fibre wallcoverings are quite new to me but every day's a learning day" said Martyn Toft. "I am chuffed with the finished effect because anything we can do to upgrade the appearance of our rooms whilst at the same time making them more durable and hard-wearing is a really big plus. Novelio Nature has definitely ticked all the right boxes and I've been pleasantly surprised by how many features & benefits it provides."
 A photo of the finished, fully furnished effect in one of the upper floor rooms of the property.
Martyn Jones is equally positive about the partnership… "It's been great to meet up with Tofty again – on this occasion to share & exchange information on the activity of our respective businesses. Saint-Gobain's new & important objective of 'Making the World a Better Home' blends perfectly with the 'Good Homes for Good People' principles of MWT Property Ltd. Coupling all this with Novelio Nature by ADFORS has provided us both with a tangible opportunity to put our company ideals into practice. Not only is the finished effect aesthetically-pleasing, it's also essentially a wall protection system and the fact that the wallcovering is washable, tough, hard-wearing and does not harbour mould or bacteria will prove invaluable here. In fact that goes for the maintenance of any property."  
As you can see, Tofty is so impressed with his new wall addition, that he is already planning to apply more of the same to another 5-roomed HMO that he is currently refurbishing & preparing for tenants in St Helens, Merseyside.
If you are interested in learning more about the Novelio range of glass fibre wallcoverings (from ready-to-hang to paintable to magnetic versions) made by Saint-Gobain Adfors CZ s.r.o. please visit www.novelionature.com
To learn more about the services of MWT Property Ltd, please visit www.mwtpm.co.uk